Introduction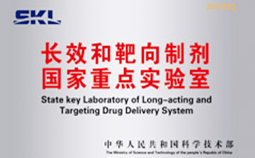 State Key Laboratory of Long-acting and Targeting Drug Delivery System was approved by the Ministry of Science and Technology in January 2010 and established in September 2014. Through these years, the laboratory has achieved significant results in developing key technology, new drugs, and human resources.
The laboratory aims at the innovative pharmaceutical preparations' research and development, especially for the long-acting microspheres, and targeting liposomes. Up to now, we have already established 3 research divisions which focused on (1) long-acting DDS and drug release technology, (2) targeting DDS and drug release technology, and (3) the development of high-end carrier material as well as the theory research for long-acting and targeting drugs.
About the key technology of the long-acting new drugs: We have broken through the key technical bottleneck of microsphere magnifying, realized full aseptic control microsphere preparation of industrial production under the cGMP standard. The lab is carrying 9 new drugs, 4 of which are in the stage of clinical study, and 3 have won the FDA's IND and are in the same stage of the clinical trials in China and the United States.
About the key technology of the targeting new drugs: We have succeeded in stabilizing liposome encapsulation and increasing the success rate. On this basis, we have upgraded key technology of paclitaxel liposomes, and completed phase II clinical study for vincristine sulfate liposomes and started phase III clinical study. Within these years, we have accumulated rich experience in the industrial production of liposome drugs, and are able to provide valuable information to other pharmaceutical companies in the industry.
About R&D of high-end carrier materials: Our team have achieved the goal of refining excipients for injection-level microspheres and liposomes, completed the pilot-scale test for 4 types of synthetic phospholipids, and constructed a new workshop for pilot test synthesis of excipients used in medicinal long-acting preparation under the requirements of GMP.
The lab attaches high importance to cultivating talents and team building. Currently, it constructed a well-structured team of experts who are dedicated to provide value for the company. Of the 122 permanent members, 2 are members of "1000 Plan", which is the recruitment program of global experts in China. The team also consists of 38 PhDs and 48 masters. In particular, the leading experts of this team all possess valuable experiences in globally known drug manufacturing companies, and have diverse research backgrounds as well as management experiences.
In these years, the laboratory has been selected to host 13 national or provincial scientific research projects, and 9 of them have already passed the acceptance inspection. At the same time, our team holds 26 domestic invention patents, and published 21 SCI papers.
In future, our team will keep focusing on innovative drugs: preparation of microspheres, nanocrystals, liposomes, micelles or nanoparticles, and DDS as well as drug release technology of long-acting and targeting drugs. At the same time, we will continue R&D of high-end carrier materials for long-acting and targeting drugs. We will carry out domestic and foreign academic cooperation, and develop more advanced, safe and effective new drugs. We strive to promote Chinese technology progress in the field of long-acting and targeting preparation, and improve the level of Chinese pharmaceutical industry.